"...not only do they teach the girls dance techniques,
but they teach them to be kind and supportive to each other.
They are taught to have class and grace both on and off the stage. "
— Beth Carson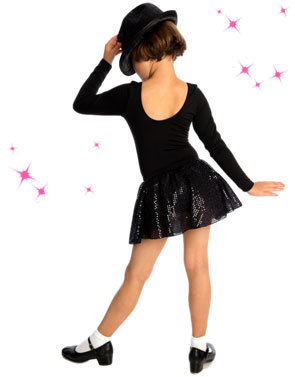 Welcome to Ms. Jordan's School of Dance
Serving the Greater Eastern Oklahoma Area
Founded in 2006 by Jordan Riggs, Ms. Jordan's School of Dance (MJSOD) offers professional dance instruction to boys and girls in the greater Sequoyah and Leflore county areas. Our studio provides a positive space where everyone can feel welcomed, comfortable, and inspired to express themselves.
We have recreational classes available for students of all levels of experience, as well as an audition-based dance Company. Current offerings include: Ballet, Tap, Jazz, Acrobatics, Hip Hip, Musical Theatre and more!
We are excited about your interest in Ms. Jordan's School of Dance and we would love to become your new dance family! For more information about our studio, or for class placement assistance for your child/ren, please contact MJSOD today!
Stop By and Say "Hi!"
Thinking of becoming a part of our studio family? We invite you to drop by to meet our staff and tour our facility. The studio is open:
| | |
| --- | --- |
| Monday | 4:00 pm – 9:00 pm |
| Tuesday | 4:00 pm – 9:00 pm |
| Wednesday | 4:00 pm – 9:00 pm |
| Thursday | 4:00 pm – 9:00 pm |
"Ms. Jordan is passionate and enthusiastic about dance,
and teaching and caring for her students..."
"My daughter has taken dance at Ms. Jordan's for 7 years now and we LOVE it. It's been such a blessing to watch her bloom as a dancer. All of her teachers have taught her grace on the stage, but even more importantly, they've taught her grace off the stage. You see, they aren't only concerned with what she does on stage, they are also concerned with her character and how she treats others off stage. We are blessed to be a part of the MJSOD dance family!"
— Stacy House

"My daughter Autumn has taken dance with Ms. Jordan's School of Dance for 10 years. Not only does she learn proper technique but life lessons. The instructors love the students and care for them personally as well as teach them the art of dance. Ms Jordan is passionate and enthusiastic about dance and teaching and caring for her students. She has definitely instilled a passion for dance in my baby's heart."
— Dr. Aubrey Henshaw

"There are so many lessons taught by Ms. Jordan, Ms. Sally and the entire MJSOD staff that will serve our kids throughout their lives in and out of the studio. They learn grace and respect, not only in movement but in behavior, because they are taught with grace, respect and unconditional love. Ms. Jordan and her staff love and treat each and every dancer as if they were their own children. We've been to a few competitions and I've seen how other studios treat and interact with their dancers (and families) and it always makes me even more thankful to be part of Ms. Jordan's School of Dance family. I sincerely cannot fathom trusting my children with anyone else..."
— Staci Holder

"My daughter has danced at Ms. Jordan's for 3 years. What I love the most is that not only do they teach the girls dance techniques, but they teach them to be kind and supportive to each other. They are taught to have class and grace both on and off the stage. I have watched my daughter grow in confidence and I am amazed at how much she has grown as a dancer under the direction of the teachers at this studio. The hard work, energy, and fun that the teachers and girls put into every class shows you how much they all love what they do! Come and watch a recital performance and you will see just how spectacular they are! "
— Beth Carson